Get Grounded in Activating Brand Purpose at Retail
Brand purpose is a growing buzzword and we are living in an age of activism and cancel culture.
The conscious consumer is a growing phenomenon and every day someone is seeking to identify authentic, sustainable brands on which to spend their dollars. The vast majority of these shoppers and consumers will be fiercely loyal to a brand whose values align with their own, but they will also be quick to call that same brand out on any areas where its core mission and its actions seem to be out of sync. Given the huge wins available for purpose-driven brands who get it right, we're going to deep dive into brand purpose and how it can be successfully activated, especially at retail.
What is Brand Purpose?
A simple definition of Brand Purpose that we like reads;
"Brand purpose is "a higher-order reason for a brand's existence that goes beyond making money and adds value to society."
Digging a little deeper, Brand Purpose is:
The brand's reason for being (i.e. its unique function and what it exists to do)
A social impact or ambition that's bigger than the brand itself (i.e how it creates a better world that can benefit humankind in some way)
A motive that's beyond simply making money (i.e. a bigger role than returning better margins, profits or shareholder value. In fact, the most recent Edelman Trust Barometer finds that 71% of respondents say that if they perceive that a brand puts profit over people, they will lose trust in that brand forever!)
You can find out more about our own approach to helping brands, retailers, startups and non profits articulate their brand purpose here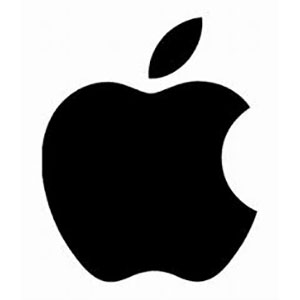 Steve Jobs articulated Apple's purpose like this…
"At Apple, we create tools for the mind that advance humankind."
Similarly, Lego's is… "Inspiring the builders of tomorrow."
And here's the one for Tesla… "To accelerate the world's transition to sustainable energy." (Notice that it mentions nothing about electric cars!)
eXo (Exponential Organization) community refers to Brand Purpose as an MTP or (Massive Transformative Purpose). If articulated well and embedded into the DNA of the brand or organization, the MTP is capable of scaling impact, reducing costs and giving you a competitive advantage.
eXo defines an MTP like this: "Massive Transformative Purpose (MTP) describes a better future for the world (or at least your industry or community). It doesn't specify how. It's not about you, your customers, your organization, your products or services. No 'you', 'we' or 'us'. You are not in the picture. It is not a marketing slogan. Consider it your north star, but one that doesn't restrict your organization from changing direction. It might excite and scare you, and catch in your throat, it matters that much to you. You might never fully achieve it, yet it is still worth striving for. Generally speaking, a great MTP attracts the customers, community, partners and resources you need to make a dent in the universe…"
"More than 87 percent of consumers would purchase a product because a company advocated for an issue they cared about and more than two-thirds would refuse to do so if the company supported an issue contrary to their beliefs"
activatebrandpurpose.com
Activating Brand Purpose at Retail

Articulating brand purpose is one thing, but activating brand purpose requires far more focus and singularity. Unless you have access to both the 'real-estate' and attention to tell your brand purpose story, it isn't necessarily going to register – especially when people are shopping.
The biggest challenge you face is the consumer's demand for convenience and their relatively short attention span whilst shopping (both in bricks-and-mortar stores and online). You could have the best intentions in the world, but with only a short window of opportunity to engage the shopper with lots of spaces, places, messages and mechanics to choose from across multiple channels, you need to work hard to grab their attention and get your brand purpose and values across. 
That's why successful companies take time to study shopping behavior at retail along the 'path to purpose' and understand where the biggest 'intention-action gap' exists, i.e. what is preventing the shopper from making the best, most sustainable purchasing decision. 
Once you understand these barriers to purchase and the tension between what shoppers really want and what's preventing them from making a better buying decision you can begin the work to close the Intention-Action gap.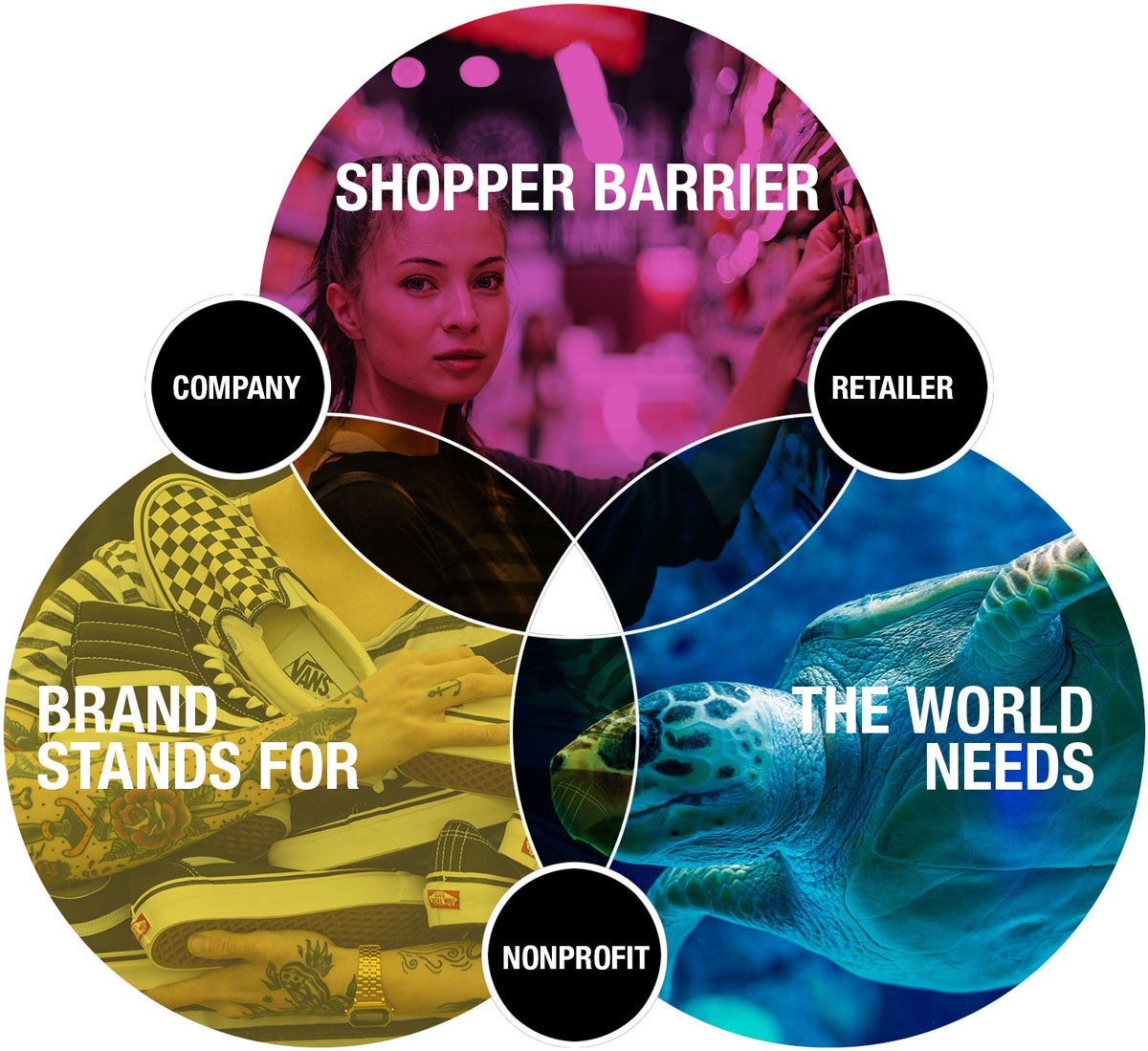 We often find that the best solution lies at the intersection of the brand experience (what the brand stands for), commercial innovation (the intention-action gap i.e. what's preventing the shopper from making a better buying decision) and social or environmental impact (what the world needs). The intersections between company, retailer and non-profit allow for enterprise based partnerships to drive revenue over time, and in our opinion, provide a model for driving a more circular and regenerative economy.
5 Things Purpose-Driven Companies Need to do to Activate Brand Purpose at Retail
"Retailers, as the main link between consumers and their products, are imperative to communicating sustainable products and increasing their demand."
Marketing Sustainable Products in the Retail Sector,
1. Understand the Difference Between Traditional and Purpose-Driven Marketing
Anyone with a grounding in traditional marketing will be familiar with the 4Ps of the marketing mix: Product, Price, Place and Promotions. If you are a purpose-driven brand you add supporting your higher goals to this mix. This table from Wendy Wallace's 2006 study highlights the key differences between traditional and sustainable marketing:
There are no two ways about it, having a larger role that pure profit-making complicates things. However, if a brand and retailer can successfully navigate these complications you can create stronger bonds with consumers and further the cause of your MTP.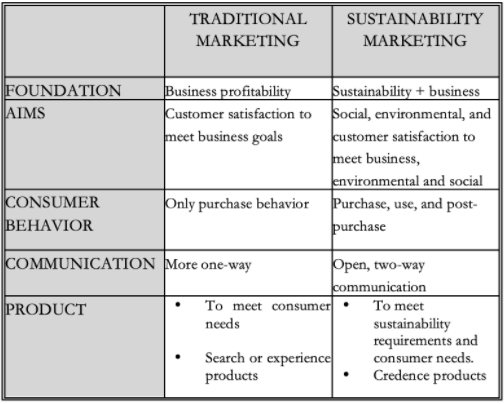 2. Define the Right Opportunity
Not knowing where to start is the second most-common barrier for conscious consumers when it comes to forming buying habits that reflect a sustainable lifestyle. However, for brands and retailers looking to make meaningful contributions to environmental or social activism, getting started is often the primary challenge.
A great first step is to identify a sustainable behavior that both brand and retailer share. This opens a dialogue between the two in which they can agree on points of strategic alignment and identify any shortcomings in the existing customer experience. Coming together to identify white space opportunities is a great way for both brand and retail business leaders to unite to in pursuit of stronger customer relationships.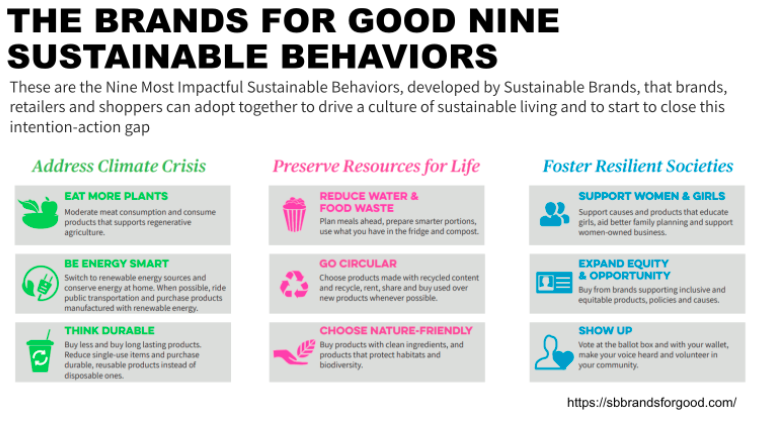 3. Create A Shared Plan of Action 
Taking your brand to market and ensuring its success in the retail space is a key time for action, but you will fail to achieve your market share potential if everyone involved isn't 100 percent clear on what need to be done and who needs to do it. When it comes to brand marketing strategies in the retail space, some retailers want brands to take the initiative and proactively recommend ways to encourage responsible shopping and consumption. In other cases, brands want retailers to take the initiative on setting expectations.  
Give your brand the best possible opportunity in the retail space by taking the time to identify key stakeholders, align the overall sustainability goals and itemise all the tasks associated with successfully positioning your brand in the retail space. This will allow you to clearly delineate the responsibilities of everyone involved and result in a shared plan of action. Each party can then move forward with implicit alignment and use this collaborative plan when briefing the broader teams, partners and agencies, so that they know exactly how and where to bring it all to life.
4. Connect the Category to the Needstate 
In other words, what does the consumer want and how can my brand deliver on that in a way that also positively impacts society and the world as a whole?
The question to ask is, "How can my sustainable behavior help drive that need and unlock that category growth opportunity for my brand?"  
Tide did this in their recent #TurnToCold campaign. Their sustainability goal was to reduce energy use, and they connected it to the category purchase drivers of superior cleaning performance and value through retail displays that called out $150 annual energy savings, a partnership with the NFL to demonstrate dirty uniforms coming clean in cold water, and online retail promotions that guided families through smart tips around the home.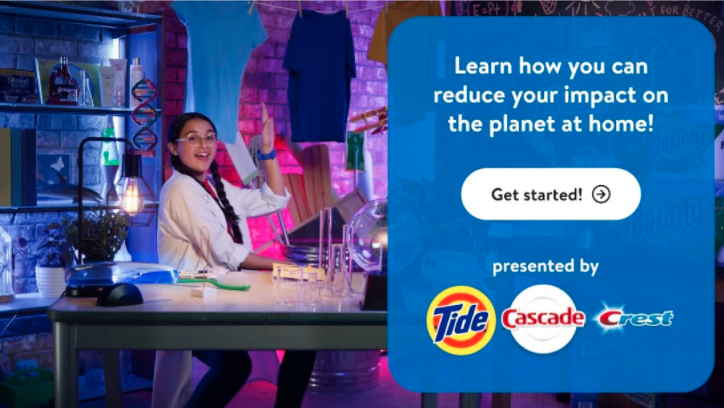 5. Identify Possible Intention-Action Gaps Along the Path to Purpose
Once a brand has determined the key benefit (that can also help grow the category) and has identified what the world needs, the last part of the puzzle is to figure out what is preventing shoppers from making the best, most sustainable purchasing decisions. 
The ultimate goal here is to change sustainable consumer behavior by successfully activating brand and retail partnerships. For example, if your brand's objective is market penetration, then the chances are that you need to focus your marketing initiative on closing the intention action gap by addressing low relevance, disbelief, or lack of an emotional connection. At a channel level, it might come down to inconvenience, or perhaps the category is complex, confusing and difficult to navigate, making it hard for the shopper to make the best decision. Traditionally the intention action gap is referred to as "awareness to consideration" and it is a vital point in the consumer journey, which needs to be bridged so that the consumers good intentions more frequently result in a purchase.
Understanding where the biggest intention-to-action gap exists will allow you to to focus on the moment that matters and so deploy your resources more effectively. You may need to invest in further product development or simply revisit the way your product details are presented to the consumer at key points in their purchasing journey.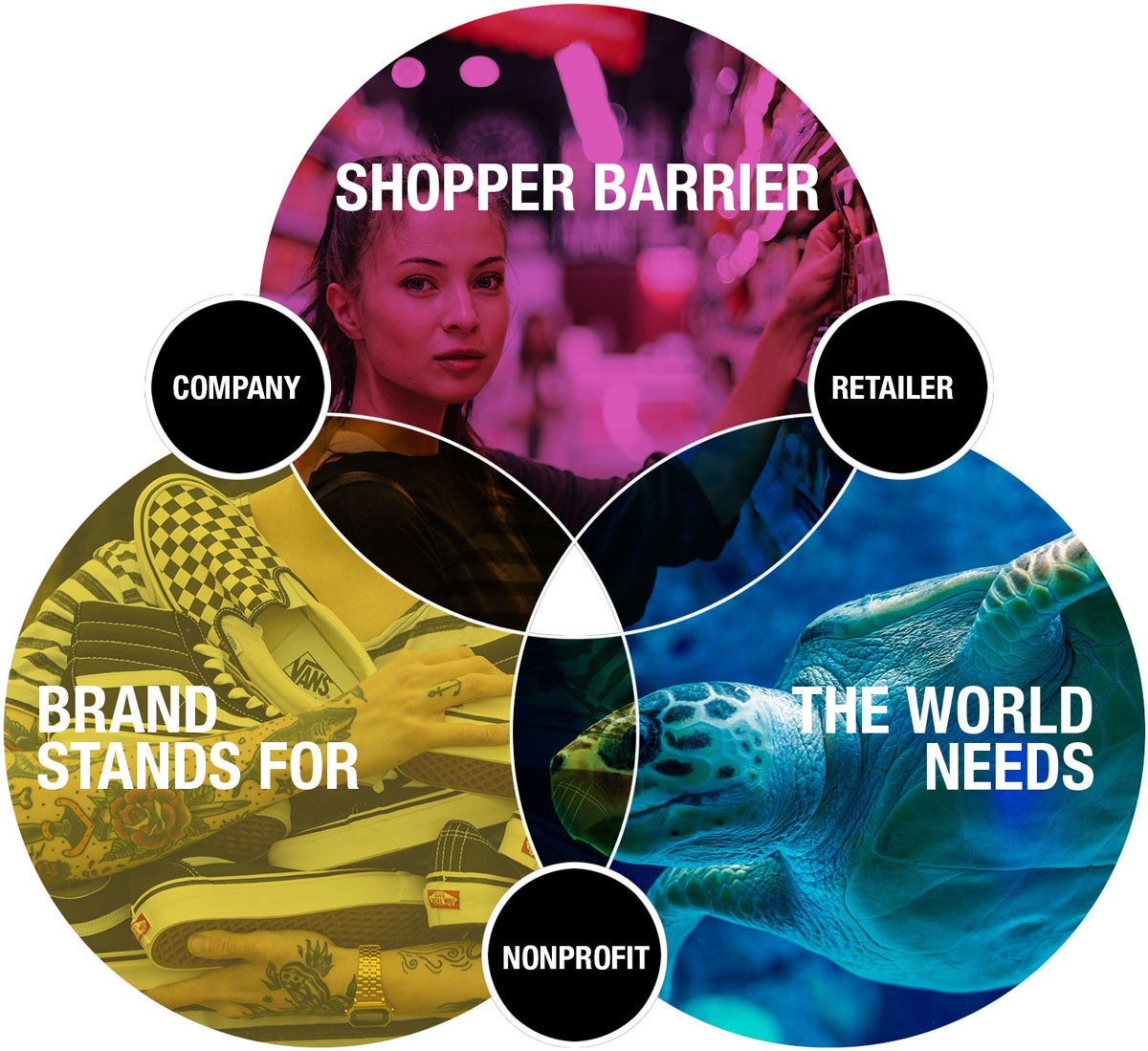 Using this framework, brands and retailers can co-create their activation ideas by aiming for the intersection of what they can uniquely offer (the brand purpose and benefit), addressing what the world needs and then giving shoppers what they ultimately want, by addressing the barrier to purchase that's creating the intention-action gap. It's the intersection of these three that can deliver a triple win for people, planet and profit.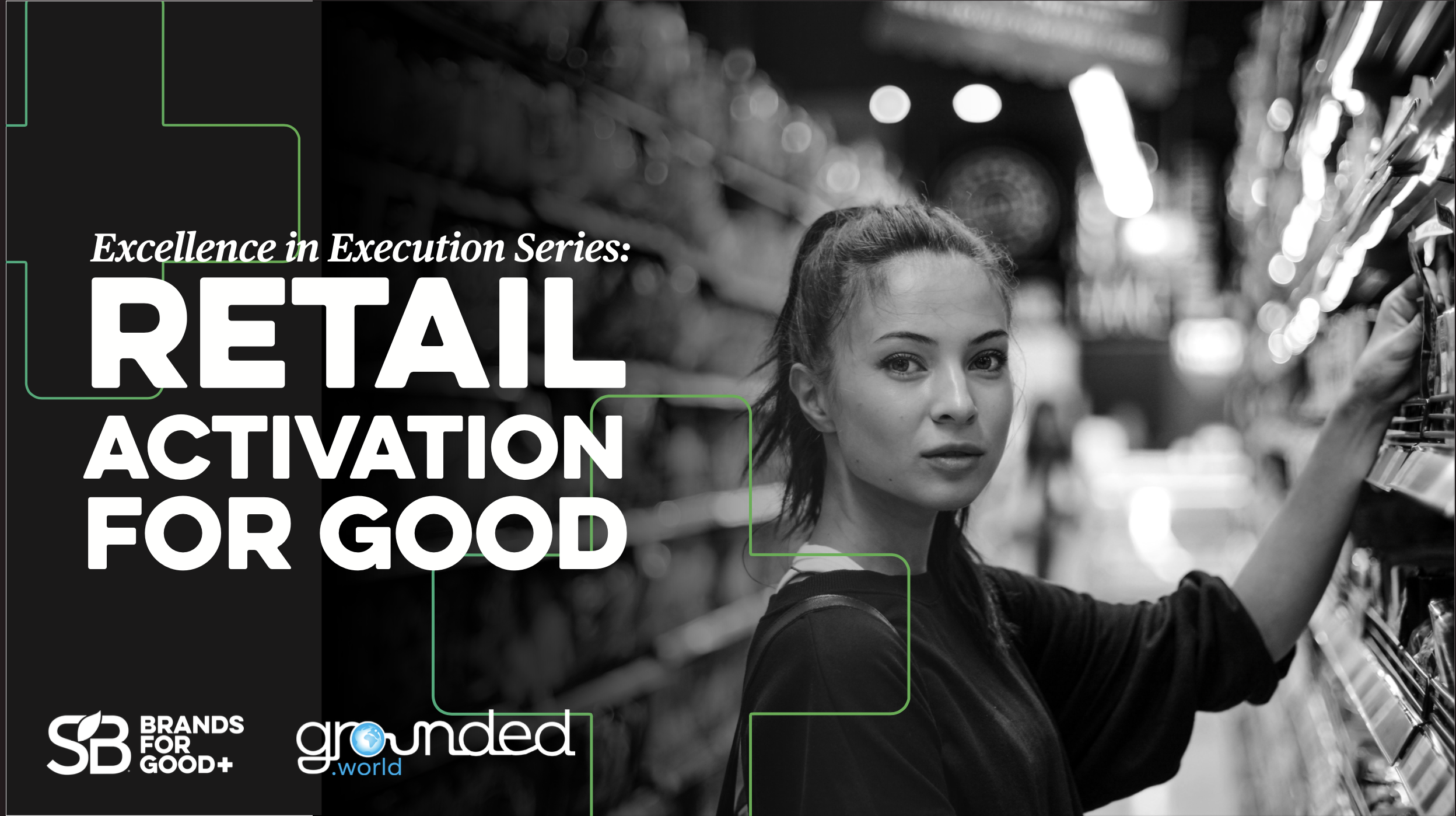 Grounded World in partnership with  Sustainable Brands have recently published a guidebook that can help:
Retail Activation for Good
.  We compiled a set of ten guiding principles and highlighted many inspirational examples to help guide brands and retailers through the process. 
Book a call
with us if you'd like access to any of the following
A free, non obligation 30-min introductory presentation  that will bring these key principles and inspirational examples to life.

An 'accelerator' workshop that will enable brands to apply the tools to a live brief so they can ideate and then activate at retail.