Get Grounded in Sustainability Marketing
What is sustainability marketing? Why does my business need it? What are the benefits? How do I find the right sustainability marketing agency to work with?
What is sustainability?
Sustainability is not just about being eco-friendly. A sustainable business sees the rich opportunities offered by delivering a product or service whilst also protecting the best interests of people, planet and profit. It's not always easy navigating social, environmental and economic concerns, and sometimes even more difficult to know exactly where to start. Sustainability marketing and communications might be required to help you:-
Mitigate brand or corporate risk

Respond to legislation
Report on your environmental and social governance policies
Advance the UN's Sustainable Development Goals
Protect the natural resources and materials that enable you to do business
Measuring your impact
Help you activate or communicate your CSR commitments and programs
Help you communicate a certification, claim or product innovation
Embrace the principles of circular economy
Clean up your supply chain
Sustainability is ultimately about survival and making changes today that will ensure that your business can continue to operate well into the future.
"An organization should meet the needs of its present consumers without compromising the ability of future generations to fulfil their own needs"
Philip Kotler
Who cares about sustainability? 
Not just climate activists and pioneers for social change. Statistics show that a growing number of people across a wide range of demographics are prioritising sustainability when it comes to their consumer choices.
"Consumers today want a better quality of life and to be more active in making the world a better place." Yodelpop – The Ultimate Guide to Sustainable Marketing
ENVIRONMENT 
70% of people consider climate change as serious a crisis as COVID-19.

79% of consumers seek out products that are better for the environment.
SOCIAL RESPONSIBILITY 
71% say that placing profit before people will lose their trust forever
BUSINESS GROWTH 
Sustainably marketed products

have grown 7X faster that conventionally marketed products over the past four years

Sustainable products enjoy a significant price premium of up to 39.5%!
There is a growing frustration among consumers that international governments are not prioritising sustainability. As a result, more and more people are trying to make changes to their lifestyles to reduce the negative impact their habits have on the wider world, pro-actively using their buying power to encourage both big and small businesses to operate in a way that aligns with their societal and environmental concerns.
These consumers are passionate about – and loyal to – brands that can honestly meet their demand for sustainable goods and services. They are also smart, savvy and endlessly questioning. Be prepared to field enquiries about everything from your creative campaigns and your supply chain to the contents of your stationery cupboard to win their enduring brand loyalty!
What is sustainability marketing? 
Sustainability marketing is more than green marketing or getting on Twitter to tell everyone that you've just sourced some new recycled packaging (although that is part of it, if we're honest with ourselves). In a nutshell, Sustainability Marketing is the act of promoting a brand, business or enterprise by 'merchandising' a socially impactful or environmentally responsible attribute, product or practice to drive brand preference and purchase intent. And that's the key. It should drive purchase intent.
If you have ever been encouraged to part with some extra cash to obtain a local product or one that is fully recyclable, then you have come across sustainability marketing.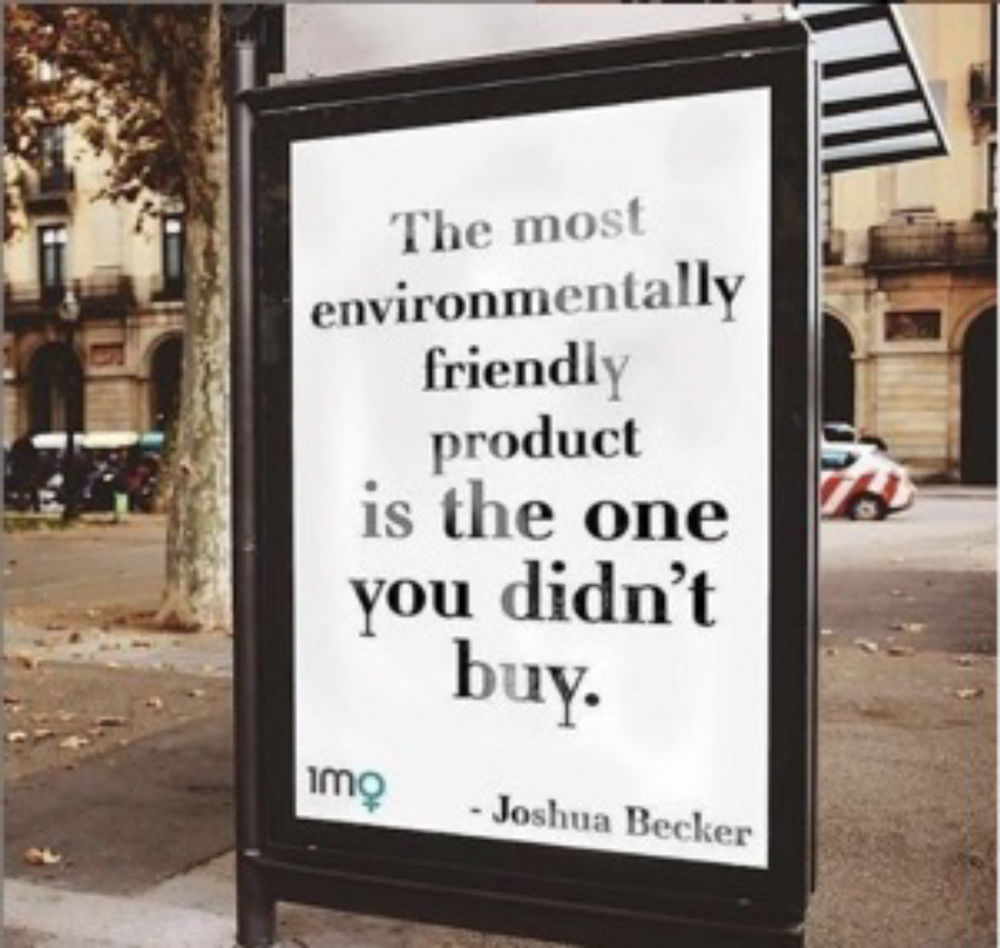 "If one aspect of your brand screams sustainability, but it isn't supported by other elements of your service, you risk being taken to task for it." James Story, Smart Insights, October 2019
The biggest challenge in any sustainability marketing journey is ensuring that what you say on all marketing platforms reflects what you actually do. If you overstate your eco-credentials or focus your marketing efforts on shouting about your recycled bamboo toilet paper, while being mysteriously silent about the daily private jet flights of your CEO, someone will find out and you risk damaging your business reputation and being accused of greenwashing.
Choosing to take your business down the sustainability marketing route also involves a wider commitment to being authentic, transparent and traceable. Let your marketing team tell everyone who will listen about what the company is doing well, but also be honest about the parts of your operation that are less than perfect and have an achievable and prioritised action plan to address them.
Another significant challenge to making your product or service more sustainable is that you obviously cannot do so by compromising quality. Consumers expect and demand a sustainable product that is as effective as any unsustainable alternative. They are often prepared to pay a bit more for this, but it is important for your business to be leveraging the cutting edge of sustainable technology to provide consumers with a reliable long-term alternative. Think of sustainability as a 'gift with purchase'-  a reason to feel good about buying a brand or product that enhances utility, enjoyment or experience.
Successful sustainability marketing projects respond to a genuine consumer need, offering a consistent experience and remaining focused on long-term goals. Both governments and businesses have a tendency to think short-term, with seasonal promotions and sales goals (for the latter) and set terms of office (for the former) dictating a large number of their activities. The environmental and social concerns of sustainability require both to put aside their traditional short-term thinking and prioritise long-term objectives. This can be a challenging shift in mindset for many businesses and it underscores the fact that sustainability is not a marketing ploy to be adopted for a season or two to attract a few extra customers from a given target audience. Rather, it is a commitment to people and planet to make things better for the future and it needs to infiltrate every aspect of your operation to be a success.
scurWhy does your business need a sustainability marketing agency?
While the world stands at the crossroads of climate change, businesses have a genuine opportunity to take the reins and make their operations more eco-friendly on their own terms, before government mandates force their hand later on.
Working with a sustainability marketing partner at this crucial stage will help your business develop a long-term plan to achieve sustainability before it is dictated by law, or worse, you're cancelled by your customers.  It will also help you to communicate your eco-credentials to your customers and the wider world, allowing you to establish yourself as a front-runner in sustainable business practices.
Long before your competitors are obliged to alter their operations to achieve government targets, your business will have had the opportunity to work with sustainability marketing experts to establish tried-and-tested sustainable practices and a loyal following of value-aligned customers. We use the 5Rs (see below) to map out and capture those goals and  commitments to find the centre of gravity that can drive your sustainability marketing communications.
Things to consider when choosing a sustainability marketing agency
Look for a well-established sustainability marketing agency with good connections in the industry (for all the lofty goals and green dreams, it is, after all, a monetised industry too). Find out which organisations they belong to and obtain a list of the brands with which they have achieved success. Are they prepared to leverage these connections for the benefit of your business? Grounded actively participates with the B-Corp community, as well as Sustainable Brands and the United Nations, and we are more than happy to draw on these rich resources to help our clients on their own sustainability journeys
Make sure they get you and your business. They may have an impressive track record full of award-winning campaigns and have enjoyed success with some of the biggest brands around, but if you don't feel that they fully grasp the ethos and purpose of your brand then keep looking for a sustainability marketing consultancy that does.
Look for a company that sets an example. If they specialise in telling other brands how to behave but don't operate in an authentic, transparent and traceable way themselves don't work with them! Another trend report and a few linked in posts a sustainability marketing agency does not make.  Engage an agency that is as committed to sustainability as much as you are. Helping you to deliver sustainable positive change should be part of their own company mission and modus operandi.
Don't forget digital! With the vast majority of sustainable brands taking their marketing efforts exclusively online, look for an agency that specializes in digital marketing. They should be able to use their rich and varied digital marketing skills to help you establish a comprehensive marketing plan that includes (but is not limited to) content marketing strategy, design products and communication strategies.