Activating Brand Purpose & Sustainability At Retail
What's Involved in Activating Brand Purpose
Definitions change from brand to brand, but a simple definition of "brand purpose" can be found in this Forbes article, which reads,
"Brand purpose is "a higher-order reason for a brand's existence that goes beyond making money and adds value to society."
 A multi-award winning social impact and brand activation agency, specializing in activating brand purpose, sustainability and social enterprise at retail. We help people buy on purpose.
Steve Jobs articulated Apple's purpose like this… 
"At Apple, we create tools for the mind that advance humankind."
Similarly, Lego's is… "Inspiring the builders of tomorrow."
And here's the one for Tesla… "To accelerate the world's transition to sustainable energy." (Notice that it mentions nothing about electric cars!)
Furthermore, the eXo (Exponential Organization) community refers to Brand Purpose as an MTP or (Massive Transformative Purpose). If articulated well and embedded into the DNA of the brand or organization, the MTP is capable of scaling impact, reducing costs and outpacing the competition by 10X.
eXo defines an MTP like this: "Massive Transformative Purpose (MTP) describes a better future for the world (or at least your industry or community). It doesn't specify how. It's not about you, your customers, your organization, your products or services. No 'you', 'we' or 'us'. You are not in the picture. It is not a marketing slogan. Consider it your north star, but one that doesn't restrict your organization from changing direction. It might excite and scare you, and catch in your throat, it matters that much to you. You might never fully achieve it, yet it is still worth striving for. Generally speaking, a great MTP attracts the customers, community, partners and resources you need to make a dent in the universe…"
Ultimately, a great purpose attracts customers, community, partners & resources you need to make a dent in the universe.
A great purpose attracts customers, community, partners & resources you need to make a dent in the universe
Activating Brand Awareness Takeaways
What's common across all of these definitions and examples is that they succinctly capture:
The brand's reason for being (i.e its unique function and what it exists to do)

A social impact or ambition that's bigger than the brand itself (i.e how it creates a better world that can benefit humankind in some way)

A motive that's beyond simply making money (i.e a bigger role than returning better margins, profits or shareholder value. In fact, the most recent

Edelman Trust Barometer

finds that 71% of respondents say that if they perceive that a brand puts profit over people, they will lose trust in that brand forever!)
So, Where Do I Start With Activating Brand Purpose? 

The Pull Factor Project, an initiative developed by Brands for Good is a good place to start. It's a cross-industry collaboration to unlock the dynamics of desire that make sustainable living easier, aspirational and more rewarding for more people around the world.
The project includes authoritative leaders and industry-leading partners such as:
The Procter & Gamble Company

The Estée Lauder Companies

Happy Family Organics

Keurig / 

Dr Pepper
Target
Johnson & Johnson
Consumer Health
National Geographic
Heineken USA
The Pull Factor Framework uses the formula of what people want + what the world needs + what the brand uniquely offers as a model for more purposeful brand building.
To inspire you in activating your own brand purpose, below you can find examples of how real companies used the Pull Factor Framework to activate their brand purpose.
Burger King
Burger King instilled confidence in their customers through their "100% Whopper" video campaign. This campaign showcased real people's reactions upon tasting the meatless Whopper for the first time.
Land O'Lakes
Land O'Lakes decided to highlight all of the female farmers that make Land O'Lakes possible. The "She-I-O" music video features footage of the Dotterer sisters, their cousins and their daughters, and was shot by a female filmmaking team. With Maggie Rose leading the vocals, the entire production was a full female team from end to end.
The North Face
The North Face developed a refurbished product line and marketing campaign that could extend the life of its products, deepen its relationship with a new generation of consumers and position the brand as a leader of a new recommerce movement that inspires more adventures with less waste.
Activating Brand Purpose at Retail
Articulating brand purpose is one thing, but activating brand purpose requires far more focus and singularity. Unless you have access to both the 'real-estate' and attention to tell your brand purpose story, it isn't necessarily going to register–especially when people are shopping.
The biggest obstacle to overcome is often convenience. As a result, you could have the best intentions in the world, but if you can't engage the shopper in a very short period of time, then everything else goes to waste.
That's why its critical to understand shopping behavior at retail too and what's actually preventing the shopper from making a purchase. This provides the focus and clarity around what will enable successful activation at retail. We often find that the best platform and shopper solution lies at the intersection of the brand experience, commercial innovation and social impact — resulting in social enterprise based partnerships between companies, retailers and nonprofits.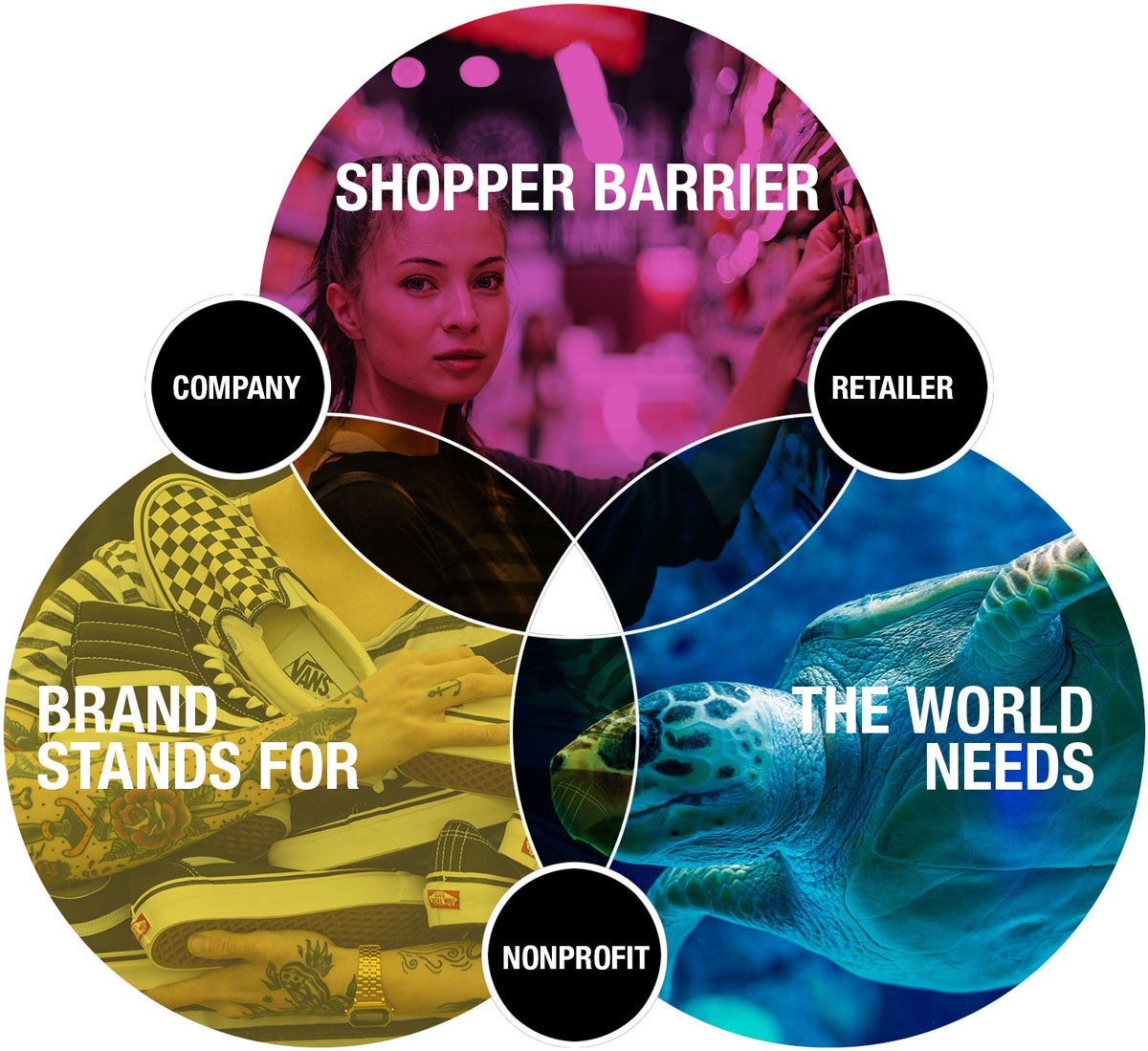 Over to You!
A good place to start then is to draw this simple Venn diagram and then find the intersection between what your brand uniquely offers (which could be a distinctive functional and / or emotional benefit) what the world needs (the social or environmental issue you want to help solve) and the barrier to purchase that's currently getting in the way and preventing the shopper from getting what they want i.e. the 'trade-off'
By adding the ability to fine-tune and customize that idea – by capturing the company's vision (behind the brand) the retailers positioning and the non-profit's mission–you are also ensuring that there is corporate alignment behind the brand (to unlock resources), the ability to customize the initiative to the values and experience of the retailer (to secure support) and a clear role for the nonprofit to play (to enable delivery).
So that's the trick…and it's the ability to synthesize,  simplify and then get buy-in from all your key stakeholders that guarantees success.  We have a wealth of examples and case studies, as well as in-house workshops and training, to empower you and your teams to apply this approach to live briefs and opportunities.  If you'd like to find out more, get in touch.