Back in April during Earth Month, we saw plenty of inspiring marketing creative and programs launched by recognized brands. Each touted their efforts to improve our relationship with our planet.  
Rather than thinking of brand purpose and sustainability marketing as a once-a-year event, consumers increasingly expect brands to keep the conversation going year-round.
Consumer demand for purpose driven brands will not wane. In fact, one could wager that the opposite holds true. Social, environmental, and economic issues continue to dominate the headlines and our consciousness in 2021.
Many of us find ourselves looking to brands to take a stand and provide moral guidance in the absence of governments and institutions taking the lead.
What exactly is it that consumers want? First and foremost, they want purpose driven brands. Brands that stand for something, brands whose values are front and center.  They want to understand a brand's purpose and how a brand's stand aligns to their own.  
This influences how consumers shop. More and more shoppers are adapting not just what they buy, but where they shop, based on brands' views on those important issues. 
Yes, consumers increasingly want brands to speak up and are willing to let their wallets do the talking. However, 60% of shoppers wish brands made it easier to know their brand purpose when making a purchase. 
Despite these raised expectations, why is it that so many brands still struggle to find their social and environmental voice?  
For starters, marketing continues to lag other functions in driving the sustainability agenda. A recent study by the World Federation of Advertisers (WFA) noted that only 1 in 10 marketers feel they're well advanced in their sustainability marketing agenda. More than half stated that their marketing organization is "just starting" or taking "first steps" in this direction. 
To their credit, these marketers overwhelmingly recognize that (1) they can make a difference in the world and (2) they need to be braver in finding and using that voice. Typical challenges (lack of resources, conflicting business priorities) aside, according to the WFA study the biggest problem they face around sustainability in marketing is creating the right narrative.
Get crystal clear on your brand purpose
Having faced a similar challenge at various clients, we created the BPP framework to help brands articulate their brand purpose statement. The BPP is focused on three key elements:
Belief: the single-minded, profoundly human belief that the brand has about the world. It anchors the brand's ambition and provides the inspiration for the brand's purpose.

Purpose:  expressing how the brand will affect culture, serve people, or change the world for the better in some way.  Think about it this way – why does the brand exist on this earth?  

Pursuits:  purpose-driven activities that reinforce those values and demonstrate the brand's commitment through what it sells, how it goes to market, and the impact it delivers.
Granted, it can be very challenging to create this type of positioning statement. Sustainability doesn't fit neatly in one particular function. For that reason, it's critical to have visibility across all marketing initiatives, with sustainability as the common thread tying them all together into a cohesive roadmap.  
Create a flywheel of impact
Ultimately, it's what you do, not what you say, that matters. With that in mind, marketers must consider how their brand purpose translates their sustainability strategy into tangible impact.
We recently hosted a webinar with Kindred featuring Marci Zaroff, a trailblazer in eco-lifestyle. She referenced the 6Cs business model she's built around ECOfashion. Borrowing from that model, here are a few questions to guide your own conversations on how your business processes and practices enable your sustainability efforts:
Rest assured, it can be done.  There are bold, brave brands and retailers out there who've already taken the first steps in paving the way.
CREATIVE EXAMPLES OF SUSTAINABILITY MARKETING
Many brands have successfully activated sustainability marketing and articulated brand purpose through traditional above the line media channels (TV, print), as well as their own social media properties. The challenge has been how to translate that messaging to other media channels, particularly in retail.  Some of our favorite purpose driven food brands – Brewdog, Tony's Chocolonely, Graze – proudly display their sustainability mission and brand purpose front and center on their own direct-to-consumer sites. Unfortunately it's proven more difficult to activate sustainability marketing at the point of sale, whether in-store or online. 
Online, that means creating content, in the form of images and videos, aligned to your sustainability strategy and publishing it in your product catalog for sharing with retailers.  When it actually makes it on the page, this content is typically relegated below the fold (i.e., lower on the product detail page, requiring shoppers to scroll down). Some brands, however, have gotten creative by using product images at the top of the page in the image carousel. According to the Baymard Institute, this is the most influential spot to drive purchase decisions.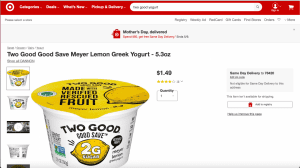 Take for example, Danone's Two Good Yogurt, which partners with Full Harvest to use rescued fruit in their products. At the top of Target's product page for Two Good's Good Save Meyer Lemon yogurt, shoppers see, in addition to a product hero image featuring clear "rescued fruit" messaging on the packaging, a short video that explains how Two Good reduces food waste by sourcing their rescued fruit at the farms, where 20% of produce is rejected.   
COMMERCIAL
Think about all those Amazon boxes in your living room. With the acceleration of ecommerce, online retail's packaging problem has only continued to grow. So what would you change? Companies like IKEA have adapted what material is used (e.g., packaging created from compostable mushrooms or shredded cardboard). However, as an industry we need to push further to think about how it's used as well, reducing the amount of secondary packaging and filler.
Brands have spent a lot of time and effort optimizing their packs and pricing for efficiency and effectiveness.  Those conversations need to also consider ways to remove waste and improve overall carbon footprint of both primary and secondary packaging. Ultimately this could possibly impact SKU decisions by channel or retailer.
COMPANY 
Anyone who's looked in my LinkedIn feed (or fridge) knows I'm a huge fan of BrewDog. Not only do they make great beers, but they're actually carbon negative to boot!  Salty language aside, the team there is very clear on what their brand stands for and how it influences how they run their business. All of this comes directly from their founders.  
And they're not shy about telling their followers about it. BrewDog has consistent messaging on their brand's purpose across all social media platforms, and gives consumers an opportunity to join in. Their Equity for Punks UK initiative raised 25M GBP earlier this year. 100% of this will go towards funding sustainability projects.
There's no question where BrewDog as a company and their founders stand on sustainability (although a recent open letter from previous disgruntled employees paints a darker picture on their leadership and corporate culture – where profit at all costs seems to take precedence over genuine purpose and compassion).
COMMUNITY
Food waste is a critical issue, one deemed as the biggest contributor to climate change. In fact, 35% of the food produced in the US is thrown away. Kroger created the Zero Food Hunger Zero Waste Foundation,
working with 200+ national / local partners and nonprofits like WWF and Feeding America. The goal is to to reduce food waste from its stores and improve food security for its local community. The company awarded over $16M in grants to those organizations. Working towards halving the world's food waste by 2030, Kroger also allows shoppers to donate at the point of sale. This can be either in store or online. 
COLLABORATION
Recognizing the effect of product supply chains on emissions, Walmart has spearheaded Project Gigaton. As part of their sustainability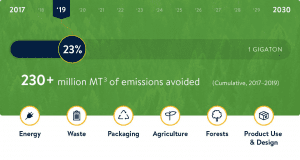 strategy, the initiative aims to avoid one billion metric tons (a gigaton) of greenhouse gases from the global value chain by 2030, holding themselves and their suppliers accountable to deliver on this big, hairy, audacious goal (BHAG for short).
Setting standards for yourself and your suppliers has been around for quite awhile. When I led Research & Analytics at Coca-Cola over 10 years ago, we had stringent criteria in place around diversity and inclusion when signing long-term service agreements with agencies.  My sense is that criteria now extends to other social elements, like the shared business sustainability targets raised by Walmart.   
Creating activation habits around sustainability strategy
At the end of the day, brands are accountable for what they say and more importantly, what they do, around the issues that matter to them and their stakeholders – consumers, employees, and partners. And that holds true not just every April, but the entire year.  
Articulating your brand purpose is the first step to driving your sustainability agenda.  What follows is what you do with that purpose. To thrive, omnichannel brands must empower sustainability – rooted in what they believe, what they were put on this earth to do, and how they deliver on that promise – to manifest itself in all aspects of their commercial operation, creating value for their customers, partners, employees, and community. 
In three words, activating sustainability in retail requires ..
Interconnectivity

– sustainability is the ultimate silo buster, potentially transforming every part of your value chain in some shape or form.

Integration

– your chances for success and level of impact are greatly improved when sustainability marketing programs meld together with other initiatives and flow through standard activation practices. It's important to create a unified customer experience.

Measurement

– scorecards that cascade business sustainability metrics from an overall corporate level to individual functions. Allow your teams to measure, track and value their contributions to your overall company commitment.